Howell, NJ Air Conditioning Company Coil Cleaning HVAC , Howell, Freehold and all of Monmouth County, NJ Free Estimates. No Pressure servicing Howell since 1987
First Degree Air conditioning,heating & Plumbing  offers the highest quality AC repair, air conditioning replacement and installation services to all of Howell, New Jersey. Our Smartechs provide air conditioning service and repairs on all brands of equipment, and treat you and your home or business with the respect and courtesy you deserve. If you have an emergency, call on us 24 hours a day, 7 days a week and we will respond with fast, professional AC repair. If you are looking for a new air conditioning system to cut down on your energy costs, Affordable Air Conditioning will always give you the best prices on units from all of the top brands and provide expert installation as per manufacturer specifications. All of our work is warrantied, so you can rest assured that you are in good hands with us. We are committed to building long-lasting relationships with all of our customers. We are dedicated to solving your air conditioning issues quickly and properly, and at a price, you can afford.
Air Conditioning Replacement
If it's time for you to get a new air conditioning system, whether yours is on its last leg or you're looking to reduce your energy costs,  is here to help. We guarantee you the best service on systems from all the top brands in the industry. We also provide expert installation by manufacturer specifications from our highly-skilled technicians and our work is warranted for the life of your unit.
When you replace an old air conditioning unit with a new one, you'll begin to see the savings on your electric bill quickly. So call First Degree Air conditioning,heating & Plumbing at 732-367-6673 today to ask about getting a new, efficient air conditioning system for your home or business!
Goodman, Trane, Honeywell, Ruud, Rheem, We Service all Brands.
Coil Cleaning
The benefits of clean coils are well known. Increased system efficiency, better heat exchange properties, and healthier environments. That's why coil cleaning is part of all preventative maintenance for HVAC and refrigeration systems. However not all coils are built alike. Some are far from water and power. Others in remote locations, like cell phone towers.. We have a variety of coil cleaning systems to fit virtually any coil cleaning need like evaporator coil cleaning, condenser coil cleaning and more for residential, commercial and refrigeration coils.
DIRTY COILS INCREASE OPERATING COST
When a coil becomes fouled with dirt and grime, it cannot provide adequate or designed heat transfer causing higher discharge pressures. The higher discharge pressure requires more electricity… thereby, increasing the costs for operating the equipment. The energy consumption of equipment operating with dirty coils can be as much as 37% more than that used by equipment with clean coils.
DIRTY INDOOR COILS AFFECT AIR QUALITY
The evaporator, or inside coil, presents major concerns that go beyond the issues already discussed. A fouled and dirty evaporator coil creates a breeding ground for bacteria and mold that can impact the indoor air quality. Cleaning, protecting the coil and preventing bacteria growth on the evaporator coil and surrounding areas is critical. Specific cleaners and products will be required for these applications.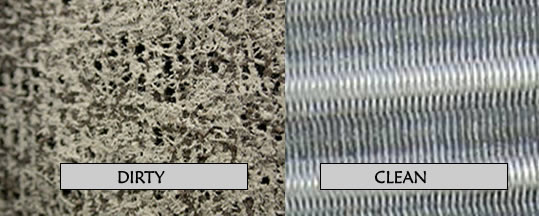 FIRST DEGREE
AIR CONDITIONING, HEATING, & PLUMBING